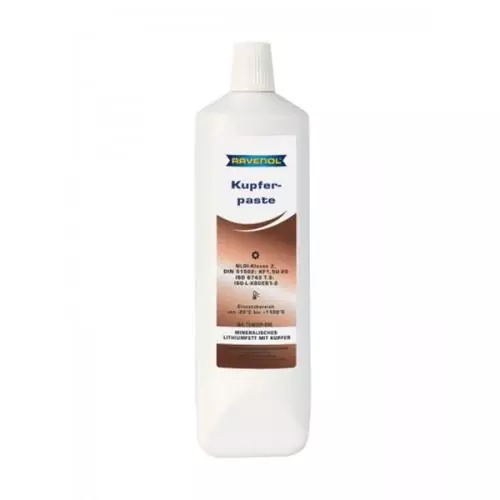 RAVENOL Kupferpaste Copper Paste 90 Grams
RAVENOL Kupferpaste Copper Paste
is a lithium grease with copper powder as a lubricant additive, wear-protection additives and anti-corrosive properties. It is suitable for application to components exposed to high temperatures, strong pressures and corrosive influences.
RAVENOL copper paste reduces friction and wear and provides protection against corrosion and seizure.
RAVENOL copper paste prevents squeaking on disc brakes, protects against corrosion and seizing of threads and bearings.
Application:
RAVENOL copper paste is used in the automotive industry for disc brakes (brake blocks) and exhaust systems, in the chemical industry for flanges and fittings for hot steam treatment, turbines and boilers. Also in the stone and earth industry for the lubrication of air bubbles, concrete and stone drills. RAVENOL copper paste has been developed for the lubrication of screw connections and bushings in drill pipes.
RAVENOL copper paste is used for high-performance lubrication for easy installation and removal of valves, plain bearings, fittings, spark plug threads, exhaust bolts, etc.
Working temperature range: -20 °C to + 1100 °C