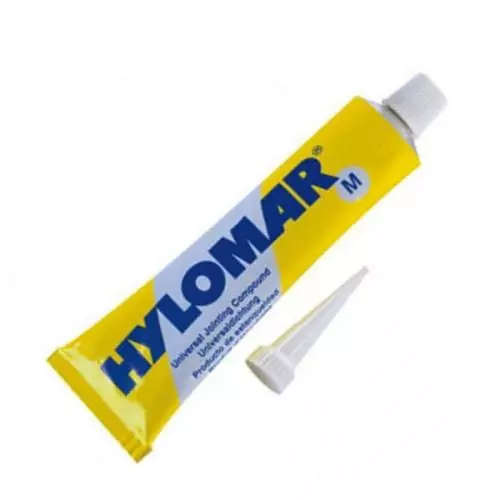 HYLOMAR 80ml M Gasketing Compound
HYLOMAR 80ml M Description:
Hylomar M is a highly engineered, polyester-urethane based non-setting and non-hardening gasketing compound. The compound is resistant to a wide range of fluids including industrial fuels, oils, water and brine, air, turbine and piston engine combustion products, water, water/glycol and methanol mixtures, petroleum and synthetic diester lubricating oils, gasoline and kerosene fluids (Avtur and Avcat) and fluorocarbon refrigerants. Hylomar M can operate at temperatures between –500C and up to 2500C (-580F and 4820F).
Hylomar M can be used to seal both joint surfaces and threaded parts.
Typical Properties
Hylomar L M H Film Thickness 0.015 mm 0.03 mm 0.09 mm Surface Finish Max 2.0 µm 3.0 µm 3.5 µm Area covered by 80 mls 2.25 m2 1.36 m2 0.67 m2 Product coverage after drying 2 mg/cm2 4 mg/cm2 12 mg/cm2 Solvent Content 47% 42% 29% Specific Gravity (ASTM D4659) 0.942 1.035 1.103

Instructions for use:
The joint faces should be clean and dry. Both faces should then be coated with a thin even film of the product, and the solvent allowed to evaporate. The components can then be assembled. Since Hylomar M is non-setting, once applied to the faces of the component, immediate assembly is not required. Due to the nature of Hylomar M, re-torquing of assembled components may be required. For stud loading, torque to required figure, allow compound to settle for a few minutes, then retorque. Hylomar M can be removed from dismantled components using Hylomar Cleaner.

ATTENTION: Hylomar is not suitable as an oil pan seal, or surfaces that are otherwise sealed with silicone sealing.

Typical applications
Hylomar M enables the effective sealing of metal to metal and plastic to plastic components. Typical applications include water and oil pumps, instrument inspection covers, cylinder heads and sumps, coating pre-formed gaskets, weather proofing motors and outdoor high voltage circuit breakers inlet manifolds, timing case covers, oil pump joints, gear box and transmission components and thread sealing. It has also been successfully used in the assembly of gas turbines, water cooled generators and turbo vacuum systems. There is no staining of copper and silver, etc., from traces of volatiles at elevated temperature, and is therefore suitable for joints and threads in close proximity to switch mechanisms. Hylomar M is harmless to joint materials. It is equally suitable for use as a gasket dressing and for metal to metal application. Light grade: inlet manifolds, timing case covers, oil pump joints, gearbox and transmission components, thread sealing and any finely machined surface. Medium grade: water and oil pumps, instrument inspection covers, cylinder heads, sumps and most machined surfaces. Heavy grade: gas turbines, water cooled generators, turbo vacuum systems, gearboxes and most rough machined surfaces.
Customers who bought this product bought also the following products: