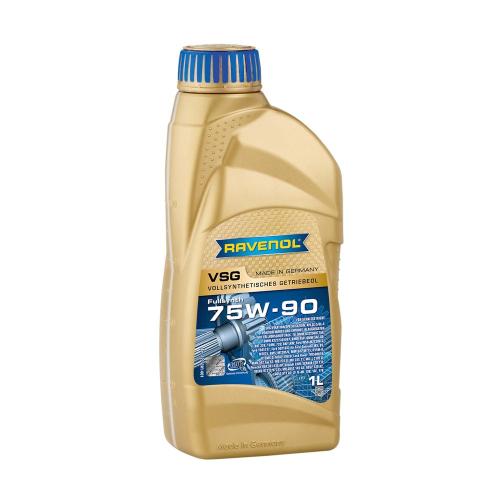 RAVENOL VSG SAE 75W-90 GEAR/DIFF OIL 1L
RAVENOL VSG SAE 75W-90 GEAR/DIFF OIL 1L

RAVENOL fully synthetic gear oil VSG SAE 75W-90
is a fully synthetic, high-performance, universal gear oil for use in heavily loaded axle drives. It is designed on the basis of high-quality synthetic base oils with special additives and inhibition, which ensure that the gears function perfectly.
RAVENOL VSG SAE 75W-90
is suitable for synchronized and non-synchronized manual transmissions, transfer cases and auxiliary drives for which an
API GL-5
or
API GL-4
oil is specified.
high additive reserves for extended oil change intervals according to manufacturer's instructions
excellent cold flow properties
best wear protection and best gear efficiency
Fuel savings even when driving short distances, even at low outside temperatures
stable lubricating film even under high loads
extraordinarily good corrosion protection and good compatibility with non-ferrous metals
high oxidative resistance prevents oil thickening and deposits
excellent dirt-carrying capacity, i.e. cleanliness of the units even after very long oil change intervals
very good elastomer compatibility to avoid leaks
Extreme shear stability and it remains within the fresh oil viscosity according to SAE class 75W-90 even after very long periods of use
very strong protection against rusting, corrosion and foaming
extremely low pour point
excellent EP properties
Specifications:
API GL-5 (API GL5)
API GL-4 (API GL4), API GL-4+
Tried and tested in aggregates with filling specifications:
VW G052 911 A2 (VW G052911A2)

VW G052 539 A2 (VW G052539A2)

VW G052 145 A2 (VW G052145A2)

MB 235.8

MB 235.11

Porsche 000.043.305.04

MAN 342 Typ S-1

BMW 83229407768

BMW 83222365987

BMW OSP

BMW SAF-XO

ZF TE-ML 12B

ZF TE-ML 16F

ZF TE-ML 17B

SCANIA STO 1:0

Renault LKW

DAF LKW (für verlängerte Intervalle)

VOLVO 97312

VOLVO 97315

VOLVO 97319

IVECO

BOT 328

BOT 130M

BOT 720

Land Rover TYK500010

Ford WSD-M2C200-C,

Ford 1045737,

Ford 5021033 für Ford-Getriebe IB5, B5, MTX75, GM5, MT285/6, MMT6/6, MT75, R15M-D, R15MX-D, MT82