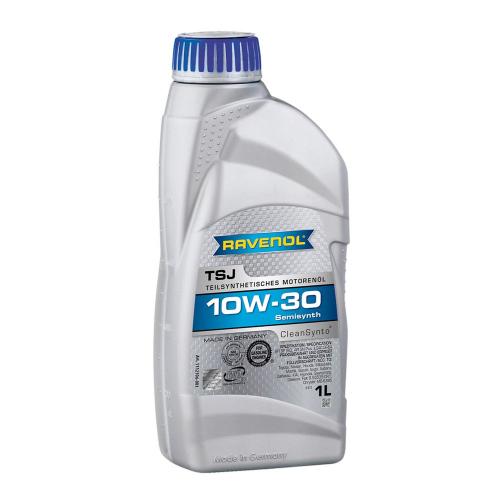 RAVENOL TSJ SAE 10W-30 ENGINE OIL
RAVENOL TSJ SAE 10W-30
is a semi-synthetic high-performance, low-friction engine oil with CleanSynto® technology with PAO content for car petrol and diesel engines with and without turbocharging and direct injection. Minimization of friction, wear and fuel consumption, excellent cold start properties. Extended oil change intervals according to manufacturer's instructions.
RAVENOL TSJ SAE 10W-30
is specially designed for use in vehicles from Japanese and Asian manufacturers.
RAVENOL TSJ SAE 10W30
offers:
Universal use in all modern petrol and diesel engines.
Rapid oiling of the engine, even at low temperatures.
Low evaporation tendency, therefore low oil consumption.
Safety against silting, coking, varnishing and corrosion even under unfavorable operating conditions.
The function of the hydraulic lifters is guaranteed at all temperatures.
No oil-related deposits in combustion chambers, in the piston ring zone and on valves.
Viscosity unchanged throughout the drain interval, high viscosity index.
Neutrality towards sealing materials.
Specifications:
API SP Resource Conserving (replaced API SN Plus)

ILSAC GF-5

ILSAC GF-6A
Proven in practice and tested in aggregates with filling instructions:

Toyota

Nissan

HONDA

MITSUBISHI

MAZDA

Suzuki

Isuzu

Subaru

Daihatsu

KIA

Hyundai

SsangYong

Daewoo

Chrysler MS-6395

Fiat 9.55535-CR1
Technical product data
Density at 20 °C kg/m³ 858.0 EN ISO 12185
Appearance/color tan VISUAL
Viscosity at 100 °C mm²/s 10.2 DIN 51562-1
Viscosity at 40 °C mm²/s 64.3 DIN 51562-1
Viscosity index VI 145 DIN ISO 2909
HTHS viscosity at 150 °C mPa*s 3.11 ASTM D5481
CCS viscosity at -25 °C mPa*s 4830 ASTM D5293
Low Temp. Pumping viscosity (MRV) at -30 °C mPa*s 12,300 ASTM D4684
Pour point °C -33 DIN ISO 3016
Noack Evaporation Test % M/M 9.9 ASTM D5800
Flash point °C 232 DIN EN ISO 2592
TBN mg KOH/g 7.4 ASTM D2896
sulfated ash %wt. 0.76 DIN51575
All specified data are approximate values and are subject to customary standards
fluctuations.