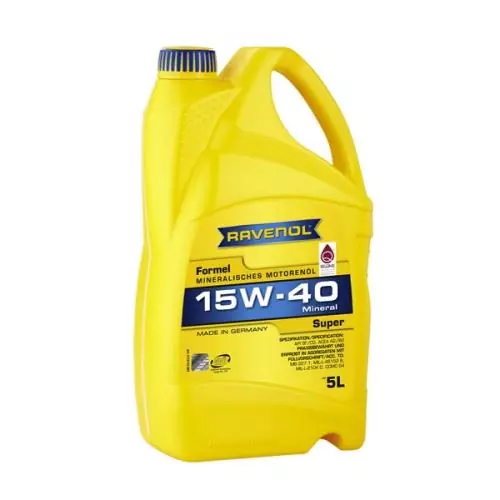 RAVENOL Formel Super 15W-40 5L Multi Grade Engine Oil
RAVENOL Formel Super 15W-40 is high quality multi-grade engine oil which corresponds to all requirements of modern carburetor and Diesel engines. It can be used in passenger cars as well as trucks. It fulfils the requirements of modern Diesel engines with or without supercharging. The favourable viscosity area ensures a high lubrication capacity all the year under different operation circumstances.
Application Notes
RAVENOL Formel Super 15W-40 can be used according to the manufacturer specification for Diesel as well as Otto engines.
We use this oil as run in oil for new or rebuild rotary engines. Oil change interval we recommend here after 300km and after 800km. After 1500km we recommend the change to Idemitsu.
Quality Classifications
RAVENOL Formel Super 15W-40 is tried and tested for aggregates specifying:
Specifications
API SF/CD, ACEA A2/B2
Practice and tested in aggregates with filling
MB-227.1, MIL-L-46152 B, MIL-L-2104 D, CCMC G4 (gültig bis 31.12.96)
Characteristic

RAVENOL Formel Super 15W-40 offers:
Protection against corrosion
A very good shear stability
A very high oxidation stability
An excellent viscosity temperature behaviour
Efficient function of hydraulic shock absorbers (hydraulic valve compensation)
Convincing detergent and dispersant attributes
High security reserves even under limited lubrication conditions
Neutrality against sealing materials
Very good cold start attributes
Avoids the formation of conglutinations, pigmenting, coking and accumulation of mud (black sludge) on cylinders, pistons, valves, sparking plugs and in turbo superchargers
No problems with the use in catalyst vehicles
Customers who bought this product bought also the following products: