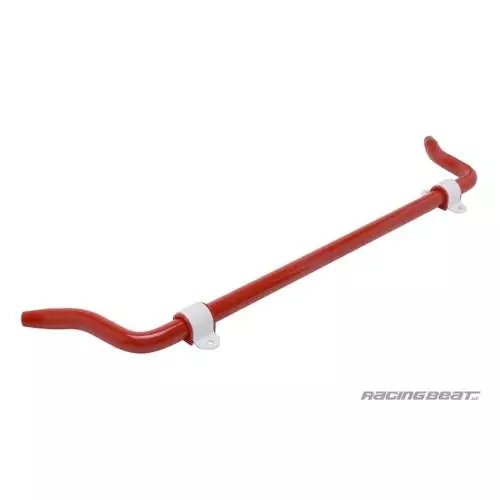 RACINGBEAT RX7 FD 92-99 FRONT SWAY BAR
RACINGBEAT RX7 FD 92-99 FRONT SWAY BAR
The Racing Beat designed solid front sway bar offers the RX-7 enthusiast the opportunity for enhanced road handling ability under both street and high performance driving conditions.

Improve the handling of your RX-7 with our 1.25" OD (31.75mm) solid front sway bar.
Each Racing Beat front sway bar is supplied with reinforced heavy duty mounting bracket and replacement urethane bushings.

Specifications:

Stock Front Bar: 28.6mm OD/19.8mm ID Tubular
Racing Beat Bar: 31.75mm OD Solid

This bar is approx 1.97 times (97% stiffer) as stiff as the stock bar and weighs approx 20 lbs (9.1kg).
We recommend the use of the Racing Beat Sway Bar Brace Kit with any aftermarket sway bar.