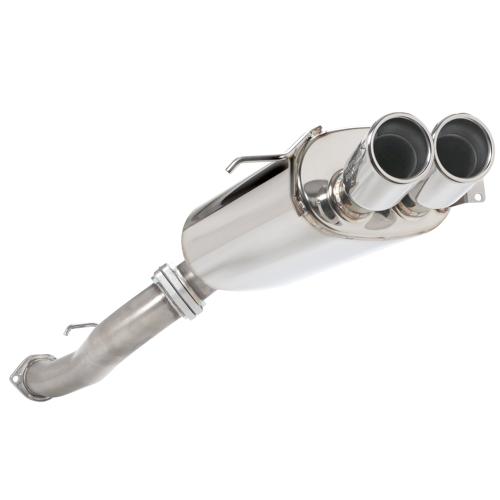 RACINGBEAT RX-7 FD3S Dual Tip Catback Exhaust System 92-99
RACINGBEAT RX-7 FD3S Dual Tip Catback Exhaust System 92-99
very Racing Beat 304-Series 1993-95 RX-7 Exhaust System benefits from high-quality materials and exacting construction techniques to provide superior performance and sound. The RX-7 FD3S exhaust system is designed by Racing Beat to maximize performance while maintaining a deep and mellow exhaust note. Normal driving produces a moderate deep tone, but jump on the throttle and these systems come alive with an even deeper, throaty sound!
Over the years we've been amazed at just how many of these systems we've sold for the FD RX-7! Considering the modest number of 1993-95 RX-7's that were sold in the US, we never thought that our systems would be a big seller. Man, were we wrong! Now, after selling 1000's of these systems it left us thinking as to why our Racing Beat system has proven to be so popular with RX-7 owners. Comparison with available systems revealed that other systems featured large exaggerated muffler tips and a louder, more aggressive exhaust tone as compared to our Racing Beat exhaust system. The Racing Beat systems we offer for the third-generation RX-7 have featured either an OEM-style Dual Tip or a modestly-sized Single Tip configuration, and a mellow, deep tone. With this classic combination of great looks, great sound, and great performance its no wonder why the Racing Beat system has been at the top of the heap for so long! If you're in the need of a replacement system for your RX-7, follow the lead of those before you and give the Racing Beat system a try.
Racing Beat exhaust systems are designed as an emissions legal, cat-back, bolt-on system and utilize all existing mounting brackets and hangers. Beautifully manufactured from pre-polished 304 series 3-inch OD stainless steel tubing, the straight-thru design of this exhaust muffler has been designed to offer your RX-7 maximum turbo performance with a 12-13 horsepower gain. The heart of every Racing Beat exhaust system starts with the muffler canister. High temperature, compressed sound insulation material is wrapped around the core of every muffler canister to provide excellent noise suppression. Each muffler is finished with a highly polished, double-walled 4-inch OD stainless steel tip. If you no longer have the Mazda factory-installed muffler rear mounting bracket, we also include our Racing Beat-manufactured stainless steel FD Muffler Rear Mounting Bracket with this exhaust system. Every system comes complete with all required mounting hardware and gaskets.