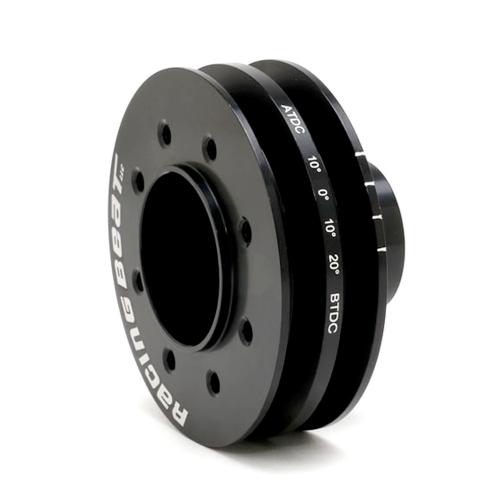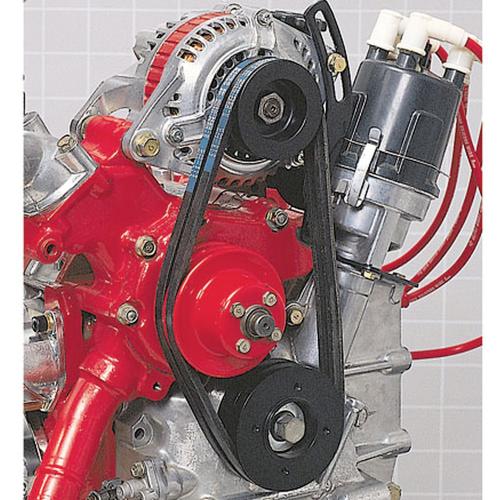 RACINGBEAT ALUMINIUM MAIN PULLEY - Double Sheave 74-92 Rotary Engines (All)
RACINGBEAT ALUMINIUM MAIN PULLEY - Double Sheave 74-92 Rotary Engines (All)
Intended for virtually all 1974-92 12A and 13B rotary engines, the Racing Beat main drive pulley is designed for high performance/RPM street and moderate racing use, slowing the water pump and alternator 13-15 %, thereby reducing cavitation and power loss. If used with our Aluminum Alternator Double Sheave Pulley, you can have a true dual belt system. The stock air conditioning pulley is accommodated.
Timing marks are provided at 10 degrees ATC, 0 degrees (TDC), 10 degrees BTC, and 20 degrees BTC. Finished with a Type II hard-anodized coating, this extremely durable surface treatment will allow the pulley to withstand years of hard use. Laser-etched with the Racing Beat logo and timing mark indications, this pulley looks as great as it performs!
We do not recommend this under drive pulley be installed on "street" driven cars that are used for stop-and-go driving. In addition, we do not recommend the use of this under drive pulley on 1987-91 RX-7 Turbo II engines unless modifications have been made (shorter intake runners, etc..) to increase the engine's RPM range substantially. Turbo II engines produce their peak power in a lower RPM range, relative to a non-turbo engine. The weight of this pulley is 16 oz.
Belt Fitting Note:
It is not practical to offer a standard replacement belt due to the variations in engine configurations. After measuring the distance required for your application, we suggest you contact your local auto parts store to obtain an appropriate 3/8-inch wide replacement belt.