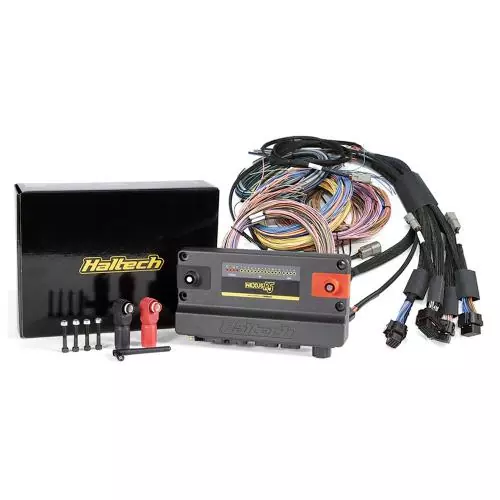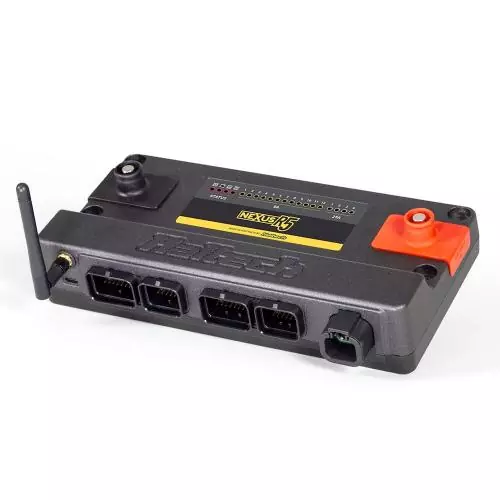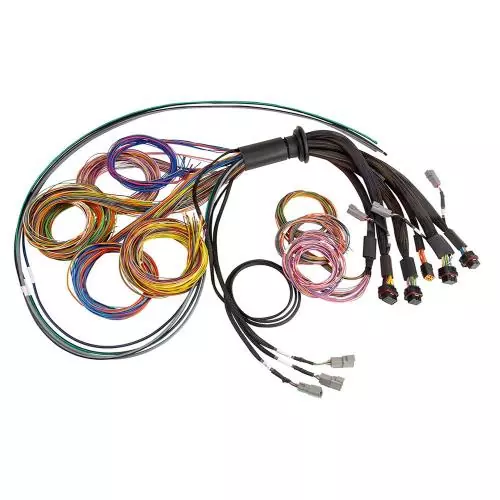 HALTECH NEXUS R5 & Universal Wire-in Harness Kit Length 2.5m (8')
The new Haltech flagship, the Nexus R5, is here! It is an engine control unit, a PDM (Power Distribution Module), a data logger and it has two controllers for wideband LSU4.9 or NTK sensors and a WLAN module integrated.
The Nexus R5 is a vehicle control unit, abbreviated to VCU (Vehicle Control Unit).
The Nexus R5 is well equipped with 18 outputs for injectors, 12 outputs for the ignition system, 12 8A power supply outputs, 4 25A power supply outputs and a large number of other inputs and outputs. With the 512MB onboard memory, up to 300 channels can be recorded at a frequency of up to 1kHz. Further details can be found in the technical data section.
The area of ​​application includes converted vintage cars and tuned road vehicles, but also professional motorsport vehicles for the quarter mile, slalom, time attack, rally, autocross, drift sport, mountain, circuit and formula racing.
The Nexus R5 is equipped with a multitude of functions. The following list gives at least a small overview:
• E-Gas (DBW) for two throttle valves
• Flex fuel
• Broadband lambda control for two cylinder banks
• Knock control for two cylinder banks
• variable camshaft control for up to four camshafts
• Long Term Learning Function 4D
• Data logging function laptop and onboard
• Anti-lag rotational idle
• Launch control
• Traction control
• Map resolution 32 x 32 x 8 4D
• Multi-level engine protection functions (Engine Protection)
• three CAN bus interfaces
• 6-level NOS control
• Boost pressure control 4D
• CO2 boost pressure control
• advanced flat shift functions
• Suspension monitoring (Shock Travel & Ride Height)
• Transbrake
• Race Timers
• Advanced Torque Management
• Onboard wideband 2-channel controller LSU 4.9 / NTK
Scope of delivery HT-195200:
Nexus R5 vehicle control unit with 2.5m long, open wiring harness, SurLok power supply connectors (red and black), WLAN antenna, screws for mounting, USB cable, USB sealing cap, USB stick with the NSP software (English), Quick Start Guide (English) , Haltech stickers;
Download link to instructions:
Quick Start Guide
Download link circuit diagram
Wiring Diagram
Download Link Haltech NSP Software:
Download Area Haltech Homepage