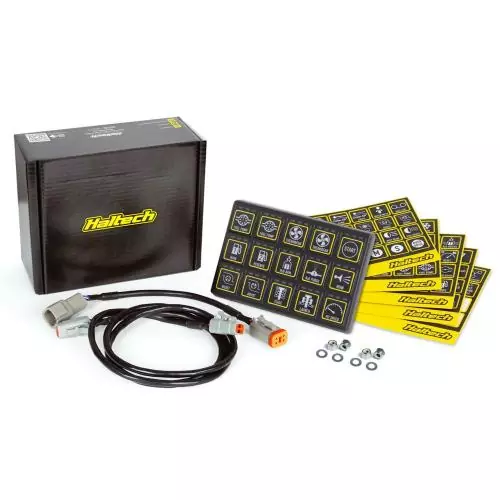 HALTECH CAN Keypad 15 Button (3x5)
The Haltech CAN Keypad is a plug & play control solution for your Haltech system. With the ergonomically designed soft-touch keys, the CAN keypad is easy to use. The keyboard is available in 2×4 and 3×5 versions and expands the functionality of your Haltech controller. Configuration is quick and easy using the NSP software. They are vibration and impact resistant (protection class IP67), therefore very very stable, robust and quickly ready for use! The dimmable backlight and LED status lights provide clarity and orientation even in dark environments.
Cabling:
The keyboard is simply connected to the Haltech CAN bus with the supplied connection cable.
Activation of the keypad
The keyboard is activated via the Haltech NSP software. When you connect to the Haltech CAN Bus for the first time, the keyboard will appear in the left sidebar. Click on the device and in the pop-up window select Activate device. The keyboard can also be activated via Connections -> CAN -> Haltech CAN system. Use the menu that appears to enable or disable the keyboard.
Scope of delivery:
Haltech CAN Keypad 3×5, key sticker set with 140 different stickers, DTM-4 – DTM-4 CAN cable 1200mm, DT-4 – DTM-4 CAN adapter cable 200mm, mounting material (nuts and washers), Quick Start Guide (English)
Download link to instructions:
Haltech Quick Start Guide