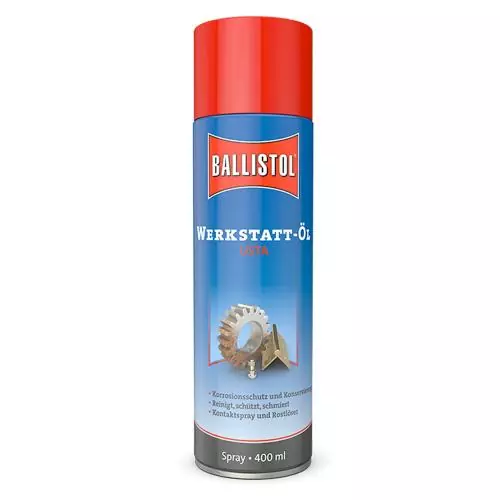 BALLISTOL GARAGE OIL USTA 400ml SPRAY
BALLISTOL GARAGE OIL USTA 400ml SPRAY
USTA Garage-Oil keeps surfaces smooth, creeps into the smallest of gaps and cavities, removes water from metal surfaces, acts against damp, and neither gums nor sticks. It offers reliable and durable rust protection.
USTA Garage-Oildoesn't contain any silicone, chlorinated hydrocarbons or ozone damaging CFCs. USTA is a versatile, high quality and low-cost tool for almost every purpose. USTA Garage-Oil keeps everything that might creak, squeak or stick in good condition. Everything works as new and is protected and maintained.
It works on sticking boot locks, releases seized up screw threads and fits and provides all metal components with long term protection against corrosion. USTA Garage-Oil has also proven itself in use as chain oil for motorbikes. Ideal for the maintenance and care of engines and devices of all kinds. USTA Garage-Oil cares and protects winders, rollers, shafts, screw threads, cable and shiny metal against splashes of water and salty spray. Ideal for use in time for the winter.
Hazard and Precautionary Statements
Danger:





Extremely flammable aerosol.

Container is under pressure: may burst if heated.

May be fatal if swallowed and enters airways.

Harmful to aquatic organisms, with long-term effect.

If medical advice is needed, have container or label at hand.

Keep out of the reach of children.

Keep away from heat, hot surfaces, sparks, open flames and other ignition sources.

Do not smoke.

Do not pierce or burn, even after use.

If swallowed: rinse mouth.

Do not induce vomiting.

Protect from sunlight and do not expose to temperatures exceeding 50 ° C.

Recycle contents / container for recycling.