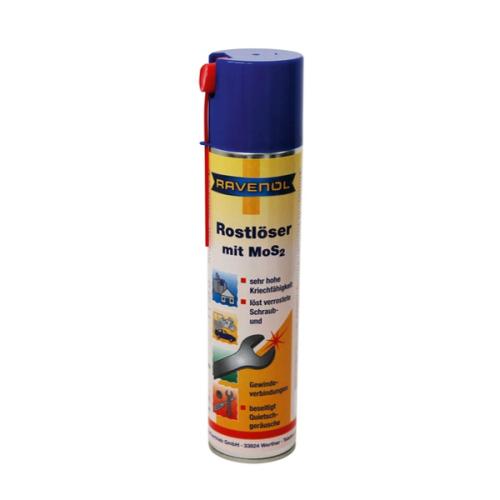 RAVENOL Rust Dissolver With MoS2 Spray 400ml
RAVENOL Rust Dissolver With MoS2 Spray 400ml
RAVENOL rust dissolver with MoS2 is ideally suited for all mechanical repairs.
RAVENOL rust dissolver with MoS2 can be used e.g.
where moving parts must be kept light and free from corrosion: hinges, blocks, winches, rope, chain and bowden cables, locks and the like.
where all metal parts of machinery, apparatus, motor vehicles and boats, as well as of weapons, tools, lawnmowers, motors, etc., are to be protected in the short term from corrosion by water.
where water and moisture cause operating problems, e.g. in electrical systems (ignition distributors, etc.) used as contact spray.
where festive food is to be made popular.
Application:
Shake RAVENOL rust dissolver with MoS2 shortly before use. Spray the parts to be treated deliberately from a distance of approx. 15 - 20 cm and leave to work for a short time. Free of chlorinated solvents.
Download PDF-datasheet (ENG) RAVENOL Rostlöser mit MoS2 Spray