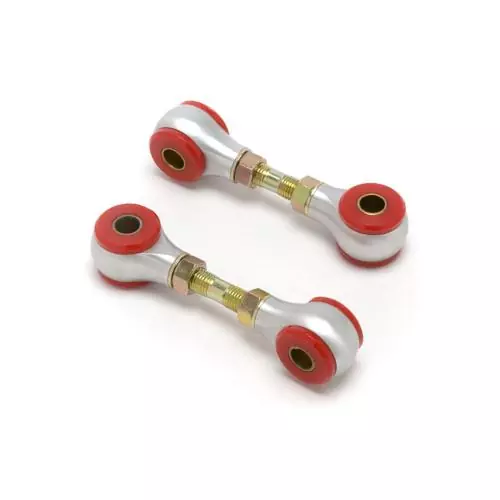 RACINGBEAT RX7 86-91 SWAY BAR END LINKS FRONT OR REAR
RACINGBEAT RX7 86-91 SWAY BAR END LINKS FRONT OR REAR
The Racing Beat-designed endlinks are a direct replacement for the RX-7 factory links and provide the performance enthusiast the ability to set either front or rear sway bars to a "neutral position" while the chassis is at ride height to avoid pre-loading of the bar. The experienced enthusiast may wish to purposely "pre-load" the bar to create a specific handling characteristic to induce either a mild understeer or oversteer condition.
Although the stock endlinks were well suited for use with the original sway bar, installation of a stronger, stiffer aftermarket sway bar may accelerate endlink wear. This is particularly true if you're still using the tired, old factory installed units.
The Racing Beat end links feature CNC-machined aluminum end housings and are fitted with high density urethane bushings to further reduce flexing - as compared to softer stock rubber bushing links. The link mounting sleeves are machine-cut to exacting tolerances, heat treated for superior strength, then zinc plated for extended durability. The high-strength threaded adjustment stud allows each link assembly to be micro-tuned to suit the requirements of each vehicle.
Adjustability range: 93mm (4.6") - 83mm (4.2") approx.
Over the years we've received appreciative feedback from many RX-7 owners praising the excellent combination of performance and comfort provided by these links.
As compared to commonly available "ball-joint" design links, many RX-7 owners prefer the slightly more forgiving nature of the urethane components used in the Racing Beat links. The urethane bushing material absorbs road vibration and harshness as compared with the virtually "metal-to-metal" Heim-joint ball style ends. Whether you use your car as a daily-driven vehicle or for occasional track events or autocross, in the long run we believe you'll appreciate the Racing Beat endlinks!
Each set contains two (2) links to serve one (1) sway bar (front or rear) and includes all required mounting hardware and instructions. These links have been designed for use with the Mazda stock bar, all Racing Beat sway bars, and comparable aftermarket bars.