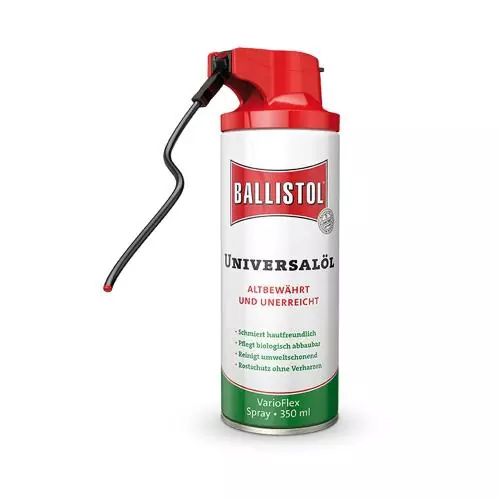 BALLISTOL UNIVERSAL OIL VARIOFLEX SPRAY 350ml
Whether for crafts, home or hobby, whether for grooming, protecting, cleaning or lubricating, whether at home, at work or on the road - Ballistol universal oil is the right oil for 1,000 cases and more. It is used as a rust protection, lubricating oil, care and cleaning agent and has been shining for 115 years with many excellent properties.
In the course of continuously developing and improving products, we literally thought "around the corner". The innovative VarioFlex has a flexible spray hose that bends individually to reach any hidden corner.

THE VARIOFLEX SPRAY HEAD OFFERS YOU MANY ADVANTAGES:
Variable
It has never been easier to switch from surface spray to spot stream. With a short handle, fold the capillary tube down and a uniform spray pattern covers surfaces with universal oil. Just as quickly, the spray head is switched to spot beam to set single mocking.

Flexible
The capillary tube became a capillary tube with a memory effect. You simply bend the hose and you reach remote corners and angles.

Economical
The large release surface facilitates dosing, even with gloves. Precise, as much as necessary and still the proven Ballistol effect. Little helps a lot with us.

Always there
And finally, we've also heard the testimonials from customers telling us that they've lost the capillary tube ... (a very creative guy even rebuilt a ballpoint pen refill ("thumbs up" for ingenuity)). With our VarioFlex you always have everything on the man (or woman). A spray for 1,000 cases ...



BALLISTOL UNIVERSAL OIL:
extremely creepable,
surfaces smooth,
does not adhere
completely biodegradable,
food safe,
skin-friendly,
completely harmless,
environmentally sound,
has a disinfecting effect.
Ballistol universal oil was developed as early as 1904 and has since been produced in unchanged form in Germany. All active ingredients contained in Ballistol Universalöl are particularly pure, of biological origin and completely degradable. The base oil for Ballistol Universal Oil is of medicinal purity, free of chlorinated hydrocarbons and contains no substances of animal origin.

In addition, Ballistol Universalöl is silicone-, PTFE-, acid- as well as resin-free and harmless within the meaning of §§ 30,31 Lebensmittel-, Bedarfsgegenstände und Futtermittelgesetz (LFGB) and Regulation (EC) No. 1935/2004. Therefore, Ballistol Universal Oil is suitable for the care and maintenance of machinery and equipment used in the food and beverage industry and which may come into contact with the product.

Ballistol Universal Oil cleans, cares for, protects, preserves and dissolves rust and residues such as resins of unsuitable oils and can be applied to wood, leather, stainless steel, iron, non-ferrous metals, non-ferrous metals and oil-resistant rubber. As a universal oil, it can be incredibly versatile - in the professional and hobby workshop, for industry and craft, car and motorcycle, household and garden, fishing, sports and leather and gun care.

There are thousands of practical applications for Ballistol universal oil and new ones are always being discovered. Benefit from the advantages of the original Ballistol universal oil.
Customers who bought this product bought also the following products: