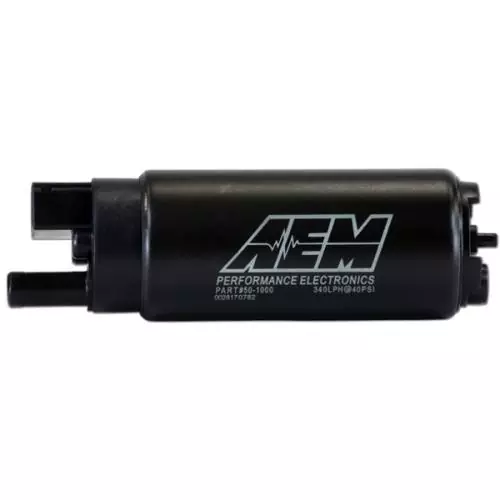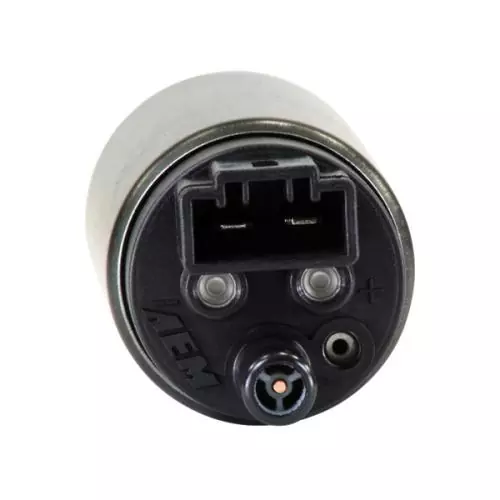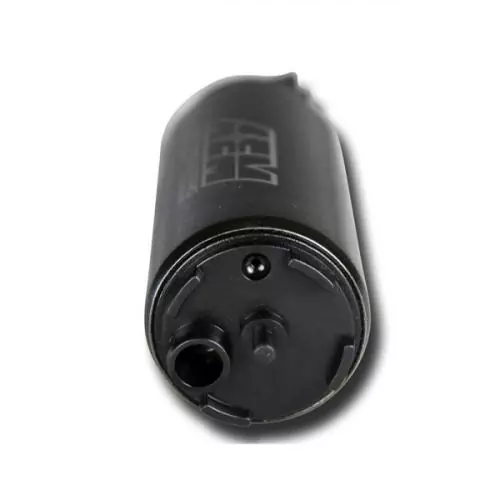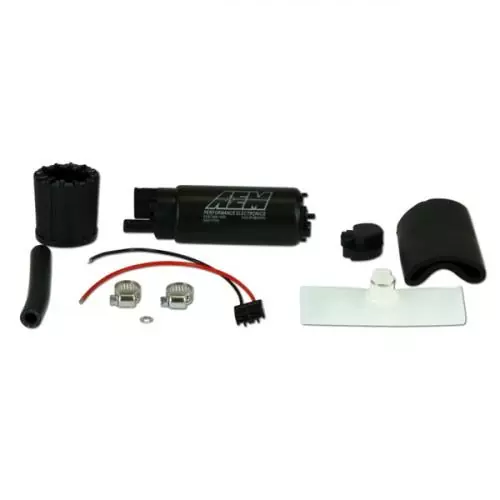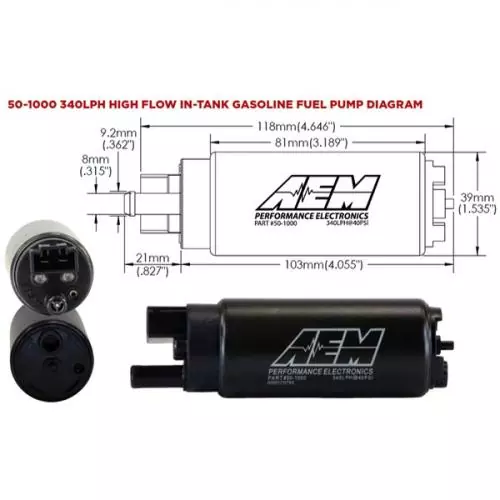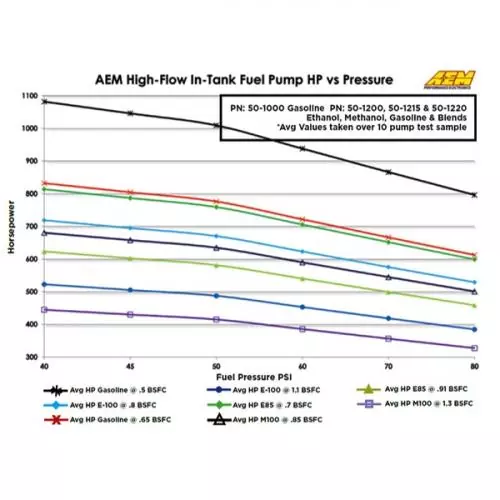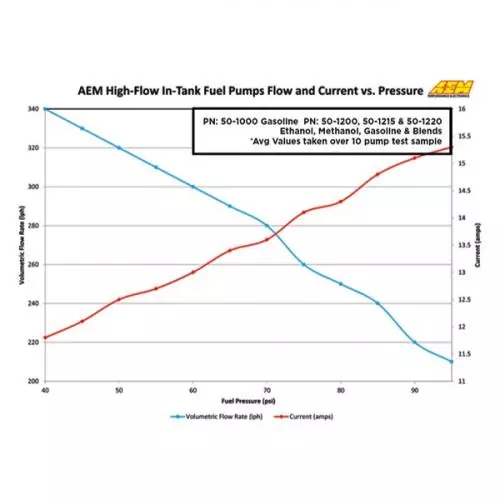 AEM High Flow Gasoline In-Tank Fuel Pump 340LPH
AEM's 340LPH High Flow In-Tank Fuel Pump is designed for high performance naturally aspirated and forced induction EFI vehicles. It delivers reliable performance and high volumes of fuel flow for roughly half the cost of comparable performance fuel pumps.
The AEM 340LPH High Flow In-Tank Fuel Pump (PN 50-1000) flows 340 lph (84 gph) at 40 PSI and is capable of supporting over 1,000 HP at 43 PSI.* Please see the flow curves and current draw vs. fuel pressure graphs on the specs tab for more information.
This fuel pump is designed for in-tank mounting for use with gasoline and features a compact 39mm diameter that fits most applications. It has an offset inlet design that eases installations and includes a wiring harness, pre filter, internal fuel hose and clamps, end cap and rubber buffer sleeve. Every pump is tested to flow 340 lph at 40 PSI before it is packaged for sale.
Designed for high output naturally aspirated and forced induction EFI vehicles
In tank design
Tested to flow 340 lph @ 40 PSI
39mm diameter fits most applications
Offset inlet design eases installation
Each pump individually tested
For gasoline vehicles
Kit includes fuel pump, rubber sleeve and end caps, pre filter, hose, clamps and flying lead
---
AEM fuel pumps include a universal pre filter which may not fit certain vehicle applications. Please refer to the OEM recommendations for filter replacement for your vehicle.
Your vehicle's factory fuel pump wiring may not be adequate enough to handle the current draw of AEM's High Flow Fuel Pumps. Please refer to the Electrical Requirements section in the instructions document for proper wiring. You can download a copy of the instructions from the BUY/INSTRUCTIONS tab on the product pages of our website.
It is imperative to ensure that the polarity of the electrical plug in your tank is correct for you pump if you choose to use it. If it is not correct you can either re-pin it or use the supplied plug.
Although AEM's High Flow Fuel Pumps are the same physical size as many OEM fuel pumps, they may not be appropriate for a specific application. You can consult the Vehicle Search function on our website to see whether a pump is recommended for your vehicle. The Vehicle Search function should be used as a reference only. It is imperative that you check the fuel pump sizing for your vehicle before purchasing an AEM High Flow Fuel Pump.
AEM does not condone or approve of the modification of a tank to accommodate a High Flow Fuel Pump and cannot guarantee the pump's performance or operation if any modifications are made.
TECHNICAL SPECS:
Weight: 12.5oz (354grams)
Outside Diameter: 39mm OD
External Materials: Black plated steel with laser etching
Inlet Fitting: 7.7mm ID, 11.0mm OD. Offset Inline
Outlet Fitting: 8 mm hose clamp. Offset
PRV Activation: 80 PSI
Impeller Design: Single Scroll Hard Anodized Aluminum Turbine
VOLTAGE SPECS:
Connector Terminal: 6 mm Spade (pos/neg)
Min Voltage Input: 6 volts
Max Voltage Input: 18 volts
Current Draw (40 psi): 12 amps (13.5v)
Current Draw (80 psi): 15 amps (13.5v)
Fuse: 15 amps (13.5v), 20 amps (13.5v) MAX