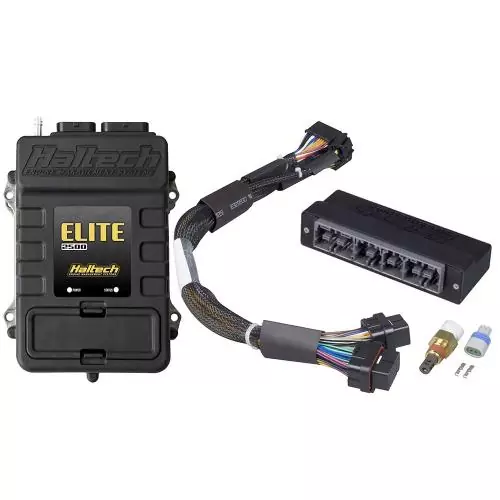 HALTECH Elite 2500 Plug'n'Play Kit – Mazda RX7 FD3S S7 & S8
Haltech ecu´s offer a variety of applications and functions. Their area of ​​application includes converted vintage cars and tuned road vehicles, but also professional motorsport vehicles for the quarter mile, slalom, time attack, rally, autocross, drift sport, mountain, circuit and formula racing. In addition to the permanently assigned inputs and outputs, additional, freely definable inputs and outputs are available depending on the model.

Application for the Haltech Elite 2500 controller:
• Piston engines with 1, 2, 3, 4, 5, 6, 8, 10 and 12 cylinders
• 2-3-4 rotor rotary engines
• Naturally aspirated and supercharged engines
• Load detection via throttle valve position, intake manifold pressure (MAP sensor) or mass air flow sensor (MAF)
• Types of injection: sequential, semi-sequential, batch or multi-point and additionally staged injection
• Support for various fuels (gasoline, LPG, methanol and ethanol)
• Distributor ignition, double distributor ignition, waste spark ignition, direct ignition up to a maximum of 4 ignition coils, Haltech CDI ignition systems, ignition offset for Wankel engines
• Electronic throttle (drive-by-wire)
• Variable intake and exhaust camshaft control - up to 4 camshafts
• Hall effect, optical and inductive trigger sensors
• Supported trigger systems: Multi-Tooth, Bosch Motronic, Audi, BMW, Chrysler, Daihatsu, Dodge, Ford, GM, Holden, Honda, Hyundai, Jeep, Kawasaki, Mazda, Mitsubishi, Nissan, Polaris, Rover, Subaru, Suzuki, Toyota , Volkswagen, Yamaha
• 32 adjustable load and speed steps with optional map extension with 8 adjustable steps (32 x 32 x 8 mapping)
• Max. speed 20,000 rpm
• Map for injection quantity VE, injection time or air quantity g / cycle
• Programmable sensor characteristics enable the use of a large number of sensors
• Real-time programming of maps
• 2 CAN interfaces (Haltech CAN BUS and vehicle-specific CAN BUS)
• OBD II capable - set and clear error diagnostic codes, engine data in real time

Scope of delivery HT-151329:
Elite 2500 control unit with a Mazda RX7 FD3S-S7 & 8 (1996-2002) Plug'n'Play wiring harness, M14x1.5 intake air temperature sensor including plug and pins, USB cable, USB sealing cap, USB stick with software (English), Quick Start Guide (English), Haltech sticker;

Vehicles:
Mazda RX7 FD3S-S7 & 8 (1996-2002) manual transmission

Connector control unit:
4-row connector design

Annotation:
Elite 1000 and 1500 controllers only support vehicles with a single turbo setup. Vehicles with the Original Equipment Twin Turbo setup require an Elite 2000 or 2500 ECU. For detailed information, please refer to the Quick Start Guide on the Haltech homepage.