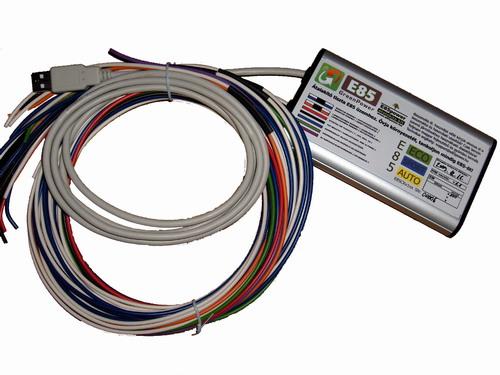 E85 POWER ETHANOL CONVERSION KIT
E85 POWER CONVERSION

KIT
Only for piston engines, not for rotary
appropriated!

E85 fuel (85% ethanol and 15% gasoline) - has a different stoichiometric mixture (1:9) than gasoline (1:14.7).

This other air demand with the result that the engine would run without modification too lean.

It takes about 25% more volume of E85.

(This corresponds to approximately 33% in weight. but you fill up at the gas station in liters)



To lean engine operation leads to jerking. and loss of power due to increased exhaust gas temperature to thermal damage to the cylinder head gasket. exhaust and catalyst.

A slight adjustment of the air requirement can be made by the long-term adaptation of the engine control unit. but it is usually sufficient for a maximum of 30-50% of E85 fraction.

Some motor controllers warn the check engine light before too lean mixture. you get some but only at an engine damage it with something.

Despite long-term adaptation (eg 40-50% E85) without modification remains the cold start problem.



So if you want to go easily and without risk of engine damage with 100% E85 makes a conversion necessary.

The E85Power Kit guaranteed proper adaptation of the air-fuel mixture at any fuel composition.

It does not matter whether it with gasoline. 30% E85. E85. or 80%
go to 100% E85. the E85Power kit fits the optimum mixture itself automatically.
Unlike many other remote valves that only a fixed - switchable closely matches the case - make for enriching that analyzes E85Power kit the oxygen sensor signal and the behavior of the engine computer.
Thereby the E85Power kit. the air / fuel mixture is always the current operating condition and load demand optimally adapted.
Then that no engine damage from E85-operation and by the mixture slightly higher calorific value. better cooling efficiency and higher octane number (RON = 105) You even get slightly better performance.
(Approx. +10% torque at low revs and +5% peak power)


Technical features:

Type:
External dimensions:
weight:
Power supply:
Current consumption:
USB Power consumption:
injector:
Injektorwiderstand:
Injektorausgangswiderstand:
Oxygen sensor input and output voltage:
TPS and ICT input voltage:
Lambda probe. input resistance:
Lambda probe. output current:
Oxygen sensor control frequency:
TPS and ICT input resistance:
Number of injectors:
Cable diameter:
Permissible humidity:
Packaging:
Operating temperature:
USB port: Standard. connector:
USB COM port connection:


E85CKv1.3
120*70*20mm
380g
7...18V DC
normal 300mA max. 900mA
max. 100mA
max. 6A
min. 5ohm
max 0.017ohm
0 .. 1V (titanium & wideband 0 .. 5V)
0 .. 18V
min. 3Mohm
max. 20mA
max. 6Hz
min. 120Kohm
1-8 pieces
0.75-1mm2
max. 95% non-condensing
aluminum. fuel-water and dust resistant
-40 ... +60 ° C
v2.0 full speed. type "A" plug
115200bps. 8N1
"