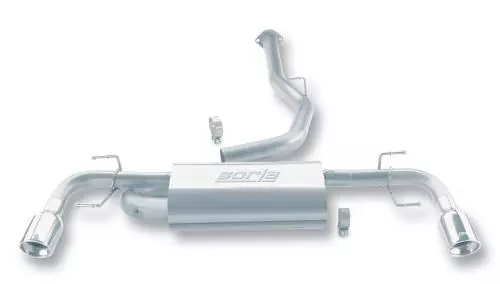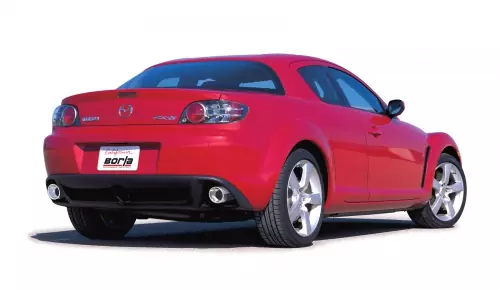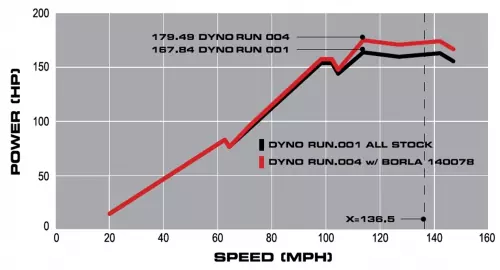 BORLA 3" Cat Back Exhaust System MAZDA RX-8
BORLA 3" stainless steel cat back exhaust system.
Fits MAZDA RX-8 all engines and year 03-08.

This system is installed directly on the flange after the cat. The BORLA® includes a 3" curved in the form of exhaust pipe, this leads to a 19" x 10" aerodynamically optimized rear muffler.
At the ends of the silencer terminate two 2.25" exhaust pipes.
There is a split system, with one left & right 3.5 "x 2.75" polished tailpipe round, beaded.

In fact, the Borla Exhaust for the RX-8 has a flow increase of 200CFM over stock, gains about 10 horsepower and is a full 6 pounds lighter than the factory system.

It is the only Mazda RX-8 3" exhaust system on the market, which has an EEC type approval!

The BORLA® system has an unbeatable combination of quality, performance, easy installation and the legendary BORLA® Sound of Power.
BORLA® Performance Industries, the original pioneers of high quality austinetic, stainless steel (superior to T-409 or aluminized steel), using its patented FreeFlow technology to bring quality, sound, performance gains.

All BORLA® street products have the famous BORLA® 1 million-mile warranty.

We always recommend at exhaust systems conversion for full performance output, the RX-8 STAGE 1 ECU remapping.