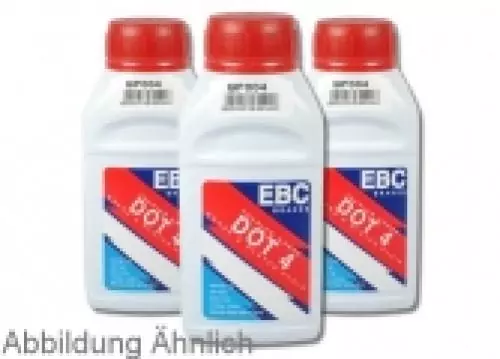 EBC107596 Brake fluid DOT4 (250ml)
EBC107596 Brake fluid DOT4 (250ml)

The EBC DOT4 fluid is produced glycol-based brake fluid for use in cars. motorcycles. and ATV's. This liquid can be used in any DOT3 or DOT4 system. For optimal results. the system must be flushed completely with EBC DOT4.
Please change always

in time

the brake fluid. because brake fluid

is "aging".




Which means that

binds water and after 3 years can contain up to 12% water.
which leads to the formation of vapor bubbles and so spongy brakes.
Mixable with all

SAE. DOT 3 and DOT 4 brake fluids
Dry boiling point: 260 ° C / 500 ° F
Wet boiling point:
165 °C / 329 °F
FMVSS 116 / ISO 4925 / SAE J1703 / K2233